Resources for Peace & Justice
LEYM's Peace & Justice Committee welcomes interested LEYM Friends to its meetings and its work.
---
Movement toward becoming an anti-racist Quaker society
LEYM has begun to delve more seriously into issues of racism. For the past several years, LEYM has engaged in self education through workshops and keynote speakers on racial justice or related issues such as incarceration and refugees at annual sessions.
For instance, at the 2016 annual sessions, LEYM adopted a minute in response to calls for FGC to engage in an introspective process:
Lake Erie Yearly Meeting supports the request by Friends of FGC/Spiritual and Institutional Accountability Working Group for an institutional audit of Friends General Conference to identify and provide recommendations to correct any structural racism and/or implicit bias within the organization.
LEYM also decided to send a $1,400 donation to FGC earmarked for the proposed institutional audit that year. In this same discussion, LEYM agreed to look into an introspective process to identify and deal with racism within LEYM.
Monthly Meetings within LEYM have taken many actions, including holding vigils, engaging with local elected officials on issues of racial justice, participating in the selection process of local police chiefs, and writing letters to the editor. Monthly Meetings have also engaged in self education through discussion groups, movie screenings, retreats, and more. A number of LEYM Friends have attended the White Privilege Conference.

Minutes on Peace & Justice
Monthly meetings and worship groups can review these documents and use them as resources in drafting your own letters to Congress and the media, and in taking action.
Akron Friends Minute on Ending Police Violence – Akron Friends Meeting July 10, 2022
Akron_Friends_Minute_on_Antiracism – Akron Friends Meeting Minute February 14, 2021
PFM Antiracism Minute– Pittsburgh Friends Meeting Minute Aug 9, 2020 (PDF)
Blessed Are Those Who Protest – Detroit Friends Monthly Meeting Minute June 21, 2020 (PDF)
Red Cedar Friends Meeting Updated Statement – Red Cedar Friends June 21, 2020 (PDF)
2020 Minute on Becoming an Anti-Racist Faith Community adopted by Red Cedar Friends Lansing Michigan on June 14, 2020 (PDF).
2020 Minute on Anti-Racism adopted by Broadmead Friends (Toledo and Bluffton) on June 14, 2020 (PDF).
2020 Minute on Responding to Systemic Racism and Police Violence adopted by North Columbus Meeting of Friends on June 14, 2020 (PDF).
2018 Minute Responding to Gun Violence in our Society adopted by Pittsburgh Monthly Meeting November 2018 (DOCX)
LEYM Minute on Banning Nuclear Weapons 2018 (PDF)
LEYM Statement of Religious Concern 1984 (DOCX)
In support of the Standing Rock Sioux vs. the Dakota Access Pipeline
Athens Friends Minute Oct. 9, 2016 (PDF)
Oberlin Friends Minute Oct. 19, 2016 (PDF)
Israel-Palestine
LEYM Minute on not investing in companies complicit with Israel's occupation of Palestine 2017 (PDF)
Open Letter to Hillary Clinton May 23, 2016 (link) from the Palestine Israel Action Group (PIAG), a subcommittee of the Peace and Social Concerns Committee of Ann Arbor Friends Meeting
LEYM Minute on Israel-Palestine 2013 (DOCX)
LEYM Open Letter to Obama/McCain re: Israel/Palestine 2008 (DOC)
Torture
LEYM Minute Against Torture 2011 (DOCX)
Minute on NRCAT Statement of Conscience 2008 (DOCX) – National Religious Campaign Against Torture
Other
Quaker Peacemaker Posters Collection (PDF)
LEYM Defense Spending Minute 2010 (PDF)
LEYM Minute on US/Iraqi Security Agreement 2008 (DOC)
LEYM Minute on Abolition of the Death Penalty 2007 (PDF)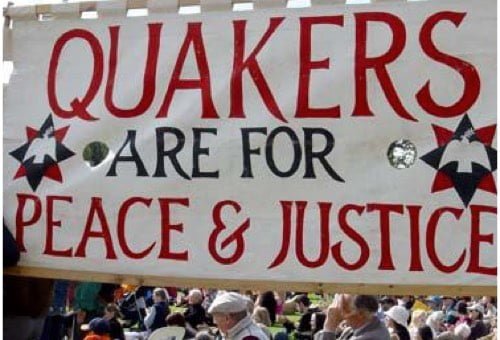 Also: Check out this informative guide from the U.K.: Engaging with Conflict and Challenging Hate Toolkit (PDF)
Quaker Peacemaker Posters