2021 Annual Meeting will be virtual
Friends will gather online July 28 – August 1 2021 for our Annual Sessions. This year's theme will be Healing Through Truth: Living myths from the past cause continuing pain. Pathways through truth help heal. Registration will open on July 1, 2021.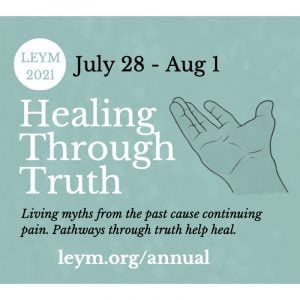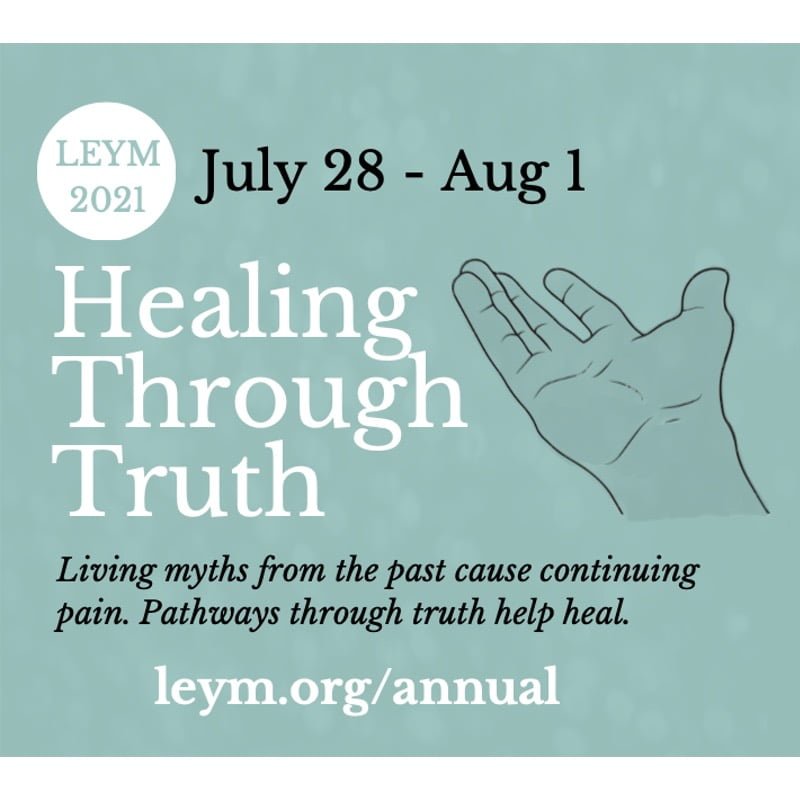 2021 Annual Meeting Agenda
Wed 28 July –
3:00 pm Executive Committee
7:00 pm Opening – Welcomes, Orientation & Worship
8:35 pm Worship
Thur 29 July –
8:15 am Worship
9:00 am Bible Study #1
11:00 am Business session #1
3:00 pm Workshops #1
— a. Roots & Branches of Quaker Advocacy – FCNL
— b. "No Way to Treat a Child" – Palestine/Israel Action Group – AFSC
7:00 pm Workshops #2
— c. Prison Abolition as a Quaker Practice – Justice Action Group, Ann Arbor
— d. Experiment with Light – Maryann Cancannon, Red Cedar
8:35 pm Worship
Fri 30 July –
8:15 am Worship
9:00 am Bible Study #2 & Worship Sharing #1
11:00 am Business session #2
1:00 pm Interest groups – Organizational
3:00 pm Workshops #3
— e. Intersection of Earthcare & Justice – Earthcare Committee
— f. Spiritual Companion Groups – Cassie Cammann
7:00 pm Plenary: From Truth to Healing with Native Peoples – Paula Palmer
8:50 pm Conclusion of Discussion and Move Into Worship
Sat 31 July –
8:15 am Worship
9:00 am Bible Study #3 & Worship Sharing #2
11:00 am Free time to be used by committees if they need to meet
1:00 pm Interest Groups – Personal
3:00 pm Workshop #4 – Roots of Justice, Seeds of Change – Paula Palmer
7:00 pm Talent Show (followed by Worship)
Sun 1 Aug –
10/11 am Worship in Local Meetings (planned with those willing & able)
2:00 pm Business Session #3
3:00 pm Reading of Epistle and Meeting for Worship
---
What It Is
Every year, Lake Erie Yearly Meeting gathers from Thursday through Sunday in late July to conduct business, worship together, and experience the Spirit's movement among us. While the purpose of the gathering is to conduct yearly meeting business, the four days also include worship sharing, programs for children and teens, a plenary presentation, workshops, committee meetings, and many opportunities for getting to know Friends throughout the yearly meeting and from various Quaker organizations. Books of interest to Friends are available for sale. We are eager to welcome newcomers and greet old Friends. See you soon!
Who Attends
Members and attenders of LEYM meetings and worship groups are invited to attend. Visitors from outside LEYM often include staff or representatives from various Quaker organizations such as FGC, FWCC, and FCNL.
When and Where it is Held
Upcoming dates:
2021 July 28 – Aug. 1 – Online via Zoom
Annual Sessions have been typically held on the campus of Bluffton University, a Mennonite college in Bluffton, Ohio.
---