Detroit Friends Have a New Meeting House!
Dear Friends,
The members and attenders of the Detroit Friends Meeting are excited to announce that after ten years of being on a relocation journey, a way opened in Fourth Month! We have a new spiritual home! We purchased an existing building at 19309 Greenfield Road in the City of Detroit. We are hoping to begin renovations immediately and move into the building in the early summer.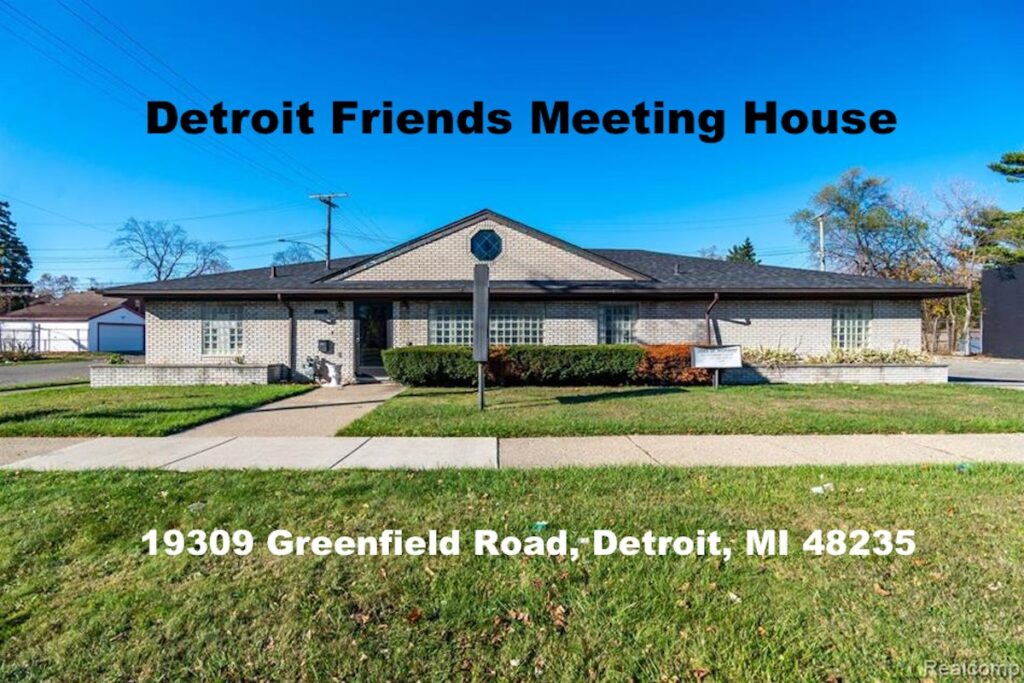 We are pleased with the building's location and potential to provide service to the neighboring community, while giving us an opportunity to attract new attenders. However, the building will require extensive renovations over a two-year period. We anticipate being able to purchase and renovate the building with our original fundraising goal. Many in our meeting felt a level of comfort that repurposing along with the planned use of energy efficient materials and equipment will have less impact on the environment. That said, these efficiency upgrades are not a luxury. Repurposing the building with new energy saving measures is a necessity to drive down operating costs, enabling us to maintain the building within our existing annual budget of approximately $18,000 a year. Also, in Detroit, water and sewage bills are based on impermeable space like parking lots, so removing most of the existing parking lot to create a permeable surface with rain gardens is a cost saving reduction as well. Our fundraising efforts will continue over the next year to meet our anticipated needs for renovations and additional costs.
Various committees are beginning to work on the physical acknowledgment of the land, ways to serve the community, creating a welcoming space for those in the community, fundraising, and hiring minority contractors and companies to complete many of the major renovations needed.
We want to express our deepest gratitude to Lake Erie Yearly Meeting, monthly meetings, and individuals within our LEYM faith community for your generosity, support, and encouragement that has been instrumental in helping us reach this point.
Our main vision and commitment to ensure that an active and engaged Quaker presence will continue in the City of Detroit for future generations to benefit from… has now become a reality!
We welcome each one of you to visit our new meeting house in the near future. We are full of gratitude for each one of you who helped make this possible. We have felt your loving care from miles away.
If you would like more information about the new meeting house, please feel free to contact a member of the Development Committee. Kevin Howley, khowley@aol.com, Peter Dale, PeterDale67@gmail.com, Mark Michener, michman@comcast.net, or Sharon Ottenbreit, sharonottenbreit@gmail.com